About Mekong Delta
At over 40,000 kilometers squared, the Mekong Delta is located in southwestern Vietnam, directly to the west of Ho Chi Minh City and also known as Vietnam's largest inland wetland depending on the season. Once the Mekong Delta region gets heavy rain to fall during high tide, this low-dying coastal area can suffer from a large-scale heavy flooding.
In total, Mekong Delta cover the 13 provinces of Vietnam's South-western region: Kien Giang, Tien Giang, An Giang, Hau Giang, Ben Tre, Tra Vinh, Dong Thap, Long An, Vinh Long, Soc Trang, Bac Lieu, Ca Mau and Can Tho.
The complex river and channel system, diverse culture and a rich fauna and flora system make Mekong Delta a perfect poster for what Southeast Asia is in many visitors' mind.
What Makes Mekong Delta So Unique
Geographically speaking, the land is favorable for planting fields as though designed for the sole purpose of providing rice for the most of the population. With that being said, the 40-thousand-square-kilometer land is carpeted with paddy fields nurtured by the water sourced from a sophisticated channel system and the legendary Mekong deposits.
Moreover, the rice fields are important on a spiritual level, as they pervade into literature, play a crucial role in the regions' historic movements and above all, are a part of the locals' mundane life. For this reason, upon coming to the Mekong Delta region, one should take in the sight of the fields not only as the exhibition of the country's agriculture but also as the token of the land's richness and the determinant of the Vietnamese psyche.
Beside the rice fields that have entered into the world record as the most productive, Mekong Delta Region is famous for her mangrove forests that keep tourists pumped with their amazing landscape and unique entertainments, cultural heritages that perfectly demonstrate the long history of the land, religious harmony and diversity and refined cuisine rooted in immediate resources unique to the land's conditions and representative of the Southern taste.
Landscape aside, people are often impressed by the locals' friendliness and generosity fueled by fruitful agriculture and the inherited sharing, caring and loving spirit. It is said that because people here are endowed with food and opportunities of livelihoods from Mother Nature, practical needs for economic competition and struggles to make a living are absent in the most parts of people's life. People thus, find logics in giving and loving. If that is not gripping and heart-warming enough, what is?
Mekong Delta has a spectacular landscape, rich culture and provides a place for spiritual salvation. A trip to the enormous area, however, would not be complete without a standard trip guide from a local perspective. For this reason, we have come up with some necessary information for you to perfect your experience in this amazing place.
The Mekong River
Mekong River is among the longest of its kind on earth, originating from Tibetan running all the way through China, Laos, Cambodia, Myanmar and Vietnam. Before it makes its way to the East Sea, the river separates into branches that has nourished rice crops, humans and civilization of what is called the Mekong Delta today.
In Vietnam, the Mekong River is more popularly known as River Of the Nine Dragons, depicting it flows and branches. The river's flood season is from May and culminate its highest in September.
Villagers whose livelihood is based on the river have developed customs to reflect the river's characteristics: from building house on bamboo stilts, to rely on boats as main means of transportation, and have their market trading done on river – called floating market.
The benefits do not only come from the geographical value, but also from timeless tourism potential: vast rice fields, huge plantations, riverside culture, colorful boat-vendors, and traditional craft villages. No one knows exactly how many generations nourished and be taken care of by the river. The river and the people have simply become indispensable parts in the other's life.
Flora and Fauna
When it comes to flora and fauna, Mekong Delta can confidently match the diversity level seen in the Amazon basin.
According to the statistics indicated at a World Wildlife Fund report during the 1997-2007 period, the Mekong river is home to 1,068 different species, and a large number of other new species are believed to be not yet discovered.
For those who are keen on seeing more of the world in terms of the diversity of species, the Mekong delta is a good leading choice. Fishes, reptiles, amphibians, mammals, and birds vary in shape and size.
Known as a life-sustaining river, the Mekong Delta truly promises an enriching experience.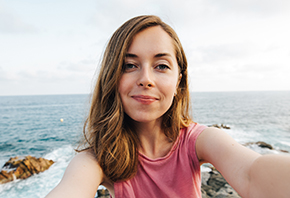 Loan Tran
Travel Expert
Traveling and having personally touched experiences of luxurious services; exploring new, attractive and unique products at each destination is my great passion during the last two decades of working in traveling industry. For me, traveling is all about memories and experiences.