Ninh Thuan – the land of golden sunshine and dry wind, without being affected much by commercial tourism, possesses an inherent wild beauty to this day.
Located about 350 kilometers from Ho Chi Minh City, Ninh Thuan has full potential for being a hot destination: dreamy blue sea, magical white sand dunes, majestic mountains, vast steppes and diverse ecosystem.
Ninh Thuan is definitely the ideal destination for you to escape from the hustle and bustle of daily life and enjoy yourself in the most beautiful coastal roads in Vietnam, immerse yourself in the stunning beaches and save amazing photos of sun, sea and sand.
Best time to visit
Influenced by monsoon tropical climate with an annual average temperature of 26-27 Celsius, Ninh Thuan's climate is divided into two distinct seasons: rainy one – starting from September to November, and dry one – lasting from December to September next year. Giving visitors different feelings at each time of the year, Ninh Thuan is suitable for travel at any time of the year, but the most appropriate is at 2 main times, which are:
May to August
This is the time when Ninh Thuan's standard natural picture is displayed clearly with blue sky, turquoise blue sea, white sand and shady green trees. This is not the peak tourist season in Ninh Thuan so you do not need to worry about service prices as well as the crowd, instead, it's time to comfortably enjoy Mother Nature's gift to this sunny and windy land.
August to October
If you are a lover of excitement, this is the right time for you with the organization of various cultural festivals of the Cham people, helping you to immerse yourself in the unique cultural space. Do not miss the orchards, especially vineyards, when this is the season of ripe fruit in Ninh Thuan.
Major attractions
Po Klong Garai Tower
As a tourist symbol of Phan Rang City, Po Klong Garai Tower is an old relic of the Cham people – who live in the South Central region. This is a complex of relics located on a large hill with dirt paths leading up the tower, green shading trees, and red brick building materials, exuding enchanting nostalgic colors. If visiting during office hours, visitors can rent Cham costumes to save memorable pictures bearing their culture.
Rai Cave
About 35 kilometers from Phan Rang City, Rai Cave is considered as a rare "paradise" with impressive majestic natural beauty that makes everyone be overwhelmed at the first time of visit. Beside variously-shaped stones stacked together to create countless beautiful and amazing caves, Rai Cave also offers visitors giant coral reefs lying on the sea challenging the big waves rushing ashore. Standing from above to admire comprehensively the whole both romantic and the magnificent scenery of Rai Cave makes your mood somewhat relaxed and peaceful after hard working days.
Vinh Hy Bay
Vinh Hy Bay has a majestic pristine beauty with the harmony of blue sea, white sand, forest and nature. Located close to Nui Chua National Park and 40 kilometers from the center of Phan Rang City, visitors can conveniently reach there by different means such as car, motorbike, or bicycle. During your trip to Ninh Thuan, Vinh Hy Bay – one of the enchanting bays in Vietnam – is definitely listed on your must-visit tourist destinations.
Ninh Chu Beach
Well-known as one of the most beautiful and pristine beaches on the Ninh Thuan tourist map, Ninh Chu Beach captivates visitors with its turquoise blue sea, charming crescent-shaped coastline, smooth yellow sand, and fresh, peaceful atmosphere. Only 5 kilometers east of Phan Rang City, the beach possesses a great tourism potential and attracts a large number of domestic and foreign tourists every year.
Binh Tien Beach
With clear blue seawater and stretching white sand strips, forming graceful roads next to Nui Chua National Park, Binh Tien Beach gives visitors a sense of peace and relaxation amid a rushed life. Just 30 kilometers away from Phan Rang City, you can catch Binh Tien Beach – a hidden "gem" of Ninh Thuan surrounded by pine forests and limestone mountains on the sea surface. The beach's inherent pristine beauty will surely captivate visitors at first sight.
Dinh Cape
Anyone must be amazed by the idyllic, untouched beauty of Dinh Cape – where there is a high lighthouse on the coast, the clear blue water, the rocky mountains with various shapes and beautiful coastal roadways. Since it is located in a remote location about 40 kilometers from Phan Rang City, Dinh Cape still retains its original idyllic and pristine features that make visitors difficult to leave. Your Ninh Thuan trip will no longer be perfect if ignoring the majestic natural scenery, white sand beaches and poetic blue seawater of Dinh Cape.
Nui Chua National Park
Lying along the coastal road and 30 kilometers from Phan Rang City, Nui Chua National Park is not only well-known for its pristine beaches, but also a suitable place for those who are enthusiastic about mountain climbing and interested in exploring beautiful places. In addition, the national park also possesses an extremely diverse and rich flora and fauna ecosystem. So this place is not only an ideal place to take pictures but also a suitable destination to explore, experience and challenge yourself.
An Hoa Sheep Field
Unlike the stunning beaches of Ninh Thuan, An Hoa Sheep Field with immense steppes and idyllic nomadic life promises to bring visitors unique travel experiences. Without noisy car horns or crowds, this place seems completely separate from that bustle city with a peaceful life besides innocent and lovely sheep. In the midst of a vast land, gorgeous mountain scenery, poetic lakes in green meadows, An Hoa Sheep Field attracts and fascinates any traveler when visiting as well as helping visitors realize the preciousness of a peaceful rural life.
Bau Truc Pottery Village
Considered as the oldest pottery village in Southeast Asia, Bau Truc Pottery Village is home to beautiful handicrafts with top-notch firing techniques imbued with Cham cultural identity. Besides admiring artistic works with delicate carvings, at the pottery village, visitors also have the opportunity to watch artisans shaping pottery with talented and skillful hands and extremely beautiful technical manipulations. Moreover, you can also make your own ceramic pots, draw patterns and fire like a real artist.
What to eat
Ninh Thuan cuisine is considered to be unique with the harmonious combination between Central cuisine and Cham culinary culture. Therefore, besides visiting and exploring gorgeous attractions, you should not miss Ninh Thuan's enchanting culinary paradise.
"Banh canh cha ca" – Rice noodle soup with fried fish
A bowl of hot rice noodle soup with fried fish, herbs, scallion and a little bit of black pepper is sure to please you even if you just smell it. As a specialty of Ninh Thuan, visitors can easily find rice noodle soup at any street of Phan Rang City.
Banh Canh Cha Ca
Some renowned places for you to enjoy "Banh canh cha ca" in Ninh Thuan:
Banh Canh Nhuong: No.284, Ngo Gia Tu Street, Phan Rang City
Banh Canh Be: No.424A, No Gia Tu Street, Phan Rang City
Banh Canh Mai Ly: Nguyen Thi Dinh Street, Phan Rang City
"Banh can" – Small pancakes cooked in small clay pans
As a native dish of Ninh Thuan people, "banh can" has the shape like the South's "banh khot" with the main ingredient as rice flour, and varied filling according to each person's taste. This specialty dish will be richer and more delicious with a cup of roasted peanut sauce mixed with a little tamarind, sugar, fried garlic and onion.
"Banh can" is sold in many street corners of Phan Rang City, however, visitors can go to the corner of Doan Thi Diem Street – 16 Thang 4 Street, opposite the Cultural Center of Ninh Thuan Province to enjoy at a small sidewalk shop whose "banh can" is considered the best one in Phan Rang with the price of about 1,000 – 2,000 VND/pair of pancakes.
"Goi ca mai" – Deep herring salad
This is a specialty that you cannot ignore when coming to Ninh Thuan. The salad dish is made from index finger-sized small deep herring combined with herbs, young banana flowers and a few pieces of pineapple, which is enough to captivate any food lover. The deep herring usually grows a lot at the end of the year, so this is the time for visitors to enjoy the best plate of deep herring salad.
Deep herring salad dishes are sold a lot along the coast of Ninh Chu Beach and Vinh Hy Beach, ideal places for visitors to enjoy this unique dish while watching the peaceful picture of the sea.
Chicken rice
During your Ninh Thuan trip, do not miss Phan Rang chicken rice with a very specific flavor made from special ingredients. Chicken is raised in the garden so its meat is firm and delicious, while the rice is cooked in chicken broth, even the way to prepare the dipping sauce is also special when being mixed with lemon, garlic, chili, and grain. With its delicious and attractive flavor, Phan Rang chicken rice will definitely make you unforgettable after the first time of enjoying it.
Some renowned places to enjoy Phan Rang chicken rice:
Com Ga Phuoc Thanh: No.3, Tran Quang Dieu Street, Phan Rang City
Com Ga Ngoc: No.10, Tran Binh Trong Street, Phan Rang City
Com Ga Khanh Ky: No.61, Tran Quang Dieu Street, Phan Rang City
Where to stay
Resorts in Ninh Thuan
If you want a complete vacation in Ninh Thuan to admire the stunning natural beauty, resorts with luxurious, modern rooms and admirable amenities such as swimming pool, spa, gym centers, shuttle service, etc. are considered a perfect experience you should choose. Some well-known resorts in Ninh Thuan for your reference are Hon Co Ca Na Resort, Ninh Chu Resort, Aniise Villa Resort, Ninh Thuan Retreat Resort.
Hotels in Ninh Thuan
For a more cost-effective vacation, you can consider the 2-3 star hotels of Ninh Thuan. Despite the cheap price, the hotels still ensure full amenities and prime location, giving you a comfortable and cozy relaxing space. Some hotels for your reference may be mentioned as Dong Nam Hotel, Seaside Hotel, Hong Duc Hotel, Son Huong Hotel, etc.
Homestay in Ninh Thuan
If you love creativity as well as want to learn more about the local's culture, homestays in Ninh Thuan are the right choice for you. With a fairly affordable rental price, the homestays will definitely give you a memorable travel experience. You can refer to some homestay such as Bigdog Homestay, Peace Home Homestay, Sea Urchin Homestay, Eco-Chi Homestay, Liti Homestay, etc.
How to get there
By plane
Although having none of its own, Ninh Thuan is located close to two major airports: Cam Ranh Airport (Khanh Hoa) and Lien Khuong Airport (Da Lat), providing convenience for travelers who want to have a safe and time-saving vacation.
If you fly to Nha Trang (Cam Ranh airport), the distance is around 60 kilometers to Ninh Thuan. If you have plenty of travel time, it will be more complete to plan a tour of Nha Trang – Ninh Thuan for 4-5 days.
Cam Ranh airport
If you land at Lien Khuong Airport, it takes about 2 hours to travel to Ninh Thuan by taxi. Similarly, you can also get this opportunity to visit the dreamy city of Da Lat before admiring the beautiful beaches in Ninh Thuan if your travel is not constrained in time.
All 3 airlines including Vietnam Airlines, Vietjet Air, and Jetstar Pacific fly daily to these two airports. However, fares will increase higher on weekends and holidays, so travelers should plan and book tickets in advance if you're traveling during this time, or schedule to travel on weekdays to avoid the crowd.
By motorbike
Motorbikes are favored by young people as well as the one who travel alone when visitors can be active in travel times, schedules and stop at any time to admire the beautiful scenes during the journey. However, this vehicle easily makes you tired and sleepy while driving, so it is suitable for short distances from the neighborhoods of Binh Thuan such as Da Lat or Nha Trang.
By train
Trains save your budget but not your time. Normally, traveling by train from Da Nang takes about 13-14 hours while from Ho Chi Minh City takes 6-8 hours. Visitors can buy train tickets at any station and after arriving at Thap Cham Station, you continue to reach your accommodation by taxi or "xe om".
By bus
If you get Binh Thuan from Ho Chi Minh City or from any area with an average distance, you can travel by coach to save travel costs with about 150,000 VND/person if departing from the East Station.
Although it takes a lot of time, you have the opportunity to admire the natural beauty as well as the life of Vietnamese people along the way, providing wonderful and unforgettable travel experiences. However, visitors need to contact the coach owner in advance to arrange the schedule accordingly.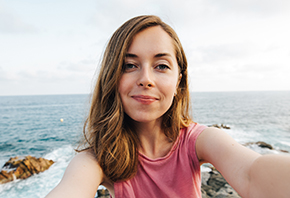 Loan Tran
Travel Expert
Traveling and having personally touched experiences of luxurious services; exploring new, attractive and unique products at each destination is my great passion during the last two decades of working in traveling industry. For me, traveling is all about memories and experiences.