Con Dao is undoubtedly the most unique archipelago in Vietnam. Being exiled from the mainland for many years, Con Dao island retains its spotless beauty while bearing the notorious historical stories that draw both excitement and curiosity from any visitor. It presents an extraordinary transformation, from the infamous "hell on Earth" in the past to the untapped tropical paradise in the presence.
Location
Located in the Southeast of Vietnam, Con Dao archipelago of Ba Ria – Vung Tau Province, a group of 16 islands, is more than 200 kilometers away from the mainland. During the French Colonial period, it was named Poulo Condor, which was not until 1977 changed officially into Con Dao by the Vietnam National Assembly. Taking up an area of 51.5km2 out of total 76km2, Con Son is the main town which comprises most population and official divisions, with a domestic airport and local port.
What to do in Con Dao
Explore the horrific history in Con Dao Prisons:
Established in 1862, Con Dao Prison system is considered a striking demonstration of ferocious war crime, as well as the resilience of Vietnamese revolutionary soldiers. The preserved cell blocks structure, the replication of abusing and torturing practices, which are muted but solid, exhibit the inhumanity and brutality of war and colonialism. A visit to the infamous Tiger Cages – which held not only soldiers but also innocent citizens, including women – will probably bring you the most disheartening experience, even for the savviest travelers.
Savor the sea with diving excursion:
Besides Nha Trang and Phu Quoc, Con Dao is the largest diving hub in Vietnam and the home of the most stunning coral reefs and marine species. Being a professional diver or just a beginner wandering under the sea, it is no longer challenging to discover the country's underwater heritage, with seagrass and coral ecosystem, and a remarkable variety of reptiles and mammals.
Discover immense natural beauty of Con Dao National Park:
Appearing at the first sight with endless, evergreen trees fringing around the islands, Con Dao National Park is a must-visit attraction for any nature lover. This is the only natural park that embraces both tropical and aquatic biodiversity, with an abundant composition of species of plants and animals, including the exceptionally scarce ones in the world. Tourists can hike through the jungle trails, with some breathtaking views over the ocean and spot the spectacular wildlife, including indigenous flora and even native monkeys. There is just a small reminder that a friendly act does not always bring back another one, especially when you think it is friendly to feed the monkeys!
Enjoy the tranquility of unspoiled beaches:
Con Dao Islands have small areas but there are many beaches with white sandy patches and translucent waters, making the swim a real treat. Not only at the main island, Con Son, but other small islands, at their untouched conditions, provide a serene and panoramic view for either a sunrise or sunset observation. If you are seeking an exclusive luxury experience with a private beach, staying at Con Son island would be idyllic due to the great choices of refined hotels and resorts. On the other hand, if you prefer the primitiveness of nature, take a boat trip to Bai Nhat, Dam Trau, or Bai Dat Doc to live it up in captivating moments.
How to get there
There are two ways that travelers can reach Con Dao, either by airplane or speed boat.
If you choose to fly, it takes approximately an hour from Tan Son Nhat Airport (SGN) in Ho Chi Minh City and two hours from Noi Bai International Airport (HAN) to Con Dao Airport (VCS) in a direct flight.
The second option, which is more cost-saving, also provides more choices to travel from Can Tho, Vung Tau or Soc Trang to your destination. The daily rides last from 2-4.5 hours to reach Ben Dam port, but it is recommended if you want a brand new experience to enjoy the splendid vision of the ocean.
Best time to visit
With a tropical monsoon climate, Con Dao Islands have two seasons in a year: dry season from November to April and rainy season during the other months.
Therefore, it depends on your travel plan that you can visit Con Dao Island around the year, except the storm season in September and October.
If diving and snorkeling are your favourite activities, travelling to Con Dao between February and July is recommended, as the water is calm and pleasant with its ideal crystal clarity. Meanwhile, traveling during the later of the dry season may open up your experience with natural biodiversity by observing the turtle breeding.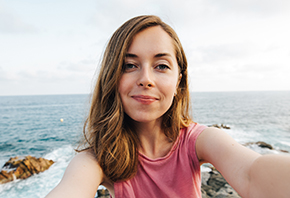 Loan Tran
Travel Expert
Traveling and having personally touched experiences of luxurious services; exploring new, attractive and unique products at each destination is my great passion during the last two decades of working in traveling industry. For me, traveling is all about memories and experiences.