Danang becomes a popular retreat among locals and travelers during this time, so expect large crowds and heavy traffic. If you can, avoid the weekend all together.
Major Attractions
The Marble Mountains
The Marble Mountains, one of the Danang's symbolic attractions, is an array of five marble and limestone hills in Ngu Hanh Son District. Those 5 peaks are named after 5 natural elements in Oriental philosophy: Hoa Son ( Fire), Kim Son (Metal), Moc Son (Wood), Tho Son (Earth), and Thuy Son (Water). Marble Mountains offers travelers a chance to explore the caves, Buddhist temples, shrines, and pagodas located across the range. Overlooking the spectacular views of the countryside and picturesque My Khe Beach from the peaks of Marble Mountains is an experience no visitor to Danang should miss.
Dragon Bridge
Dragon Bridge is undoubtedly the most famous bridge crossing the poetic yet tranquil Han River. The bridge is known for featuring an impressive show of fire, colorful light and water. As its name reveals, the bridge was designed and constructed in the shape of a huge dragon capable of flushing and spraying the water. Crossing the Han River, this six-lane bridge is a popular spot amongst travelling photographers, the symbol of Danang, where you can stop by to grasp an overview of the city layout.
My Khe Beach
Ranked one of the most beautiful beaches globally by Forbes, My Khe Beach (next to Non Nuoc Beach) boasts numerous beautiful scenes, from the spectacular sunrise views to its fantastic nightlife. With soft white sands, a gentle slope, unpolluted waters, and mild waves, this dreamy beach is a must-visit destination for travelers who are seeking a relaxation experience at its peak. It features an array of luxurious hotels, high-end resorts, seafood restaurants, and beachside bars. It also offers numerous leisure activities such as sunbathing, jet-skiing, and surfing while enjoying local seafood dishes.
Museum of Cham Sculpture
Formed over 100 years ago, the Museum of Cham Sculpture dedicates to Cham Kingdom's ancient culture and history. The museum features Gothic-style architecture adorned with several Hindu elements. The highlight here is an enormous collection of Cham sculptures, sandstone carvings, and terracotta artifacts found in different regions of the country. Best place for culture and history lovers, coming here, visitors can easily explore the exhibits based on the sections with free audio guides. Exploring the Cham Sculpture Museum, you will travel back to the golden era of Champa, and get lost in a rich cultural treasure.
Son Tra Mountain / Monkey Mountain
Son Tra Mountain (also known as Son Tra Peninsula) is a magnificent national park in Danang that stands at 693 meters above sea level. It boasts beautiful roads surrounding prove to be a popular spot for motorcycling. At the same time, hiking enthusiasts can enjoy the verdant jungles and spot rare species in the Red Book such as the red face monkeys. The renowned Linh Ung Pagoda is also set on Son Tra Mountain, famous throughout the country as one of the most sacred destinations in Central. With a lotus-shaped architecture, the pagoda features a total of 21 miniature Buddha sculptures within the beautiful 67 metre-tall Goddess of Mercy statue.
The UNESCO's Cultural Heritage My Son
Perfect for adventurous souls who want to discover the historical architecture and ancient civilizations, The World Cultural Heritage My Son will bring you back to the golden era of Champa Kingdom. Located in the Duy Xuyen District of Quang Nam Province, this destination is 20 km from the city center of Danang. Surrounded by dense forests, the sanctuary is a combination of the Hindu temples, stone sculptures of the god Shiva, and towers partially ruined by time and wars. What could be better than admiring the breathtaking views of the sunrise and sunset at one of the most sacred destinations of Central Vietnam.
Where to stay
As Danang is one of the most popular beach cities in the country, there are a myriad of hotels, resorts, and homestays for you to choose from. For travelers who want to stay downtown to access must-see attractions at ease, Hai Chau District is the best location to stay since the area is located right between the Han River and the airport. This vibrant district is also home to the best street food stalls, restaurants, and a wide variety of clubs and bars.
Many choose an accommodation near to the river between the Han River Bridge and the Dragon Bridge, so you can easily take an excursion alongside the river.
Danang is also famous for a countless number of luxury resorts and hotels along the beachfront, which offer you a perfect hideaway from the city center's hectic pace.
How To Get There
Located in the South Central Coast, halfway between Hanoi and Ho Chi Minh City, Danang offers various means of transportation. The rising popularity of the beach destination also means many direct international flights now reach the city instead of requiring a transfer from other Vietnam's metropolitan cities.
By Plane
The fastest and most comfy way to get to Danang is traveling by air. Every day, there are numerous flights taking off and landing at Danang International Airport, connecting the coastal city with other metropolises such as Hanoi, Ho Chi Minh City, Nha Trang and Da Lat. Many hotels in Danang also offer airport transfers for free when you book an accomodation so be sure to ask the receptionist.
By Bus
To get to Danang, you can get to buses from a huge number of cities and provinces of Vietnam such as: Hanoi, Ho Chi Minh city, Dalat, Nha Trang, Lao Cai (Sapa), Phan Thiet and other destinations. For a detailed schedule, come directly to the bus station and check with the box office. Tickets for buses can be booked at the bus stations in all the cities around the country or in travel agencies with a small markup. Danang bus station even offers daily bus links to Laos (Vientiane from 400,000 VND, and from Pakse 405,000 VND).
By Train
Thanks to its strategic location, Danang is an important stop for both North-bound and South-bound trains. A trip by train is longer in comparison with a shuttle bus, but they are equipped with a soft sleeper and air-conditioner, which will bring you the comfort experience. Notably, the ride from the North across Hai Van Pass offers an extremely breath-taking scenery so make sure you are close to the window to enjoy it.
Getting around the city
Danang offers numerous motorcycle taxis. Quick rides around town and down to the renowned My Khe beach should be around a couple of bucks. Most recommended destinations are located around the Bach Dang and Tran Phu streets. Danang is a big city, so if you're headed somewhere specific, the best choice is hopping on a motorcycle taxi or regular local metered taxis.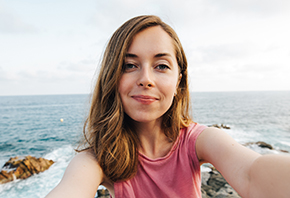 Loan Tran
Travel Expert
Traveling and having personally touched experiences of luxurious services; exploring new, attractive and unique products at each destination is my great passion during the last two decades of working in traveling industry. For me, traveling is all about memories and experiences.