As you make your way to Hanoi, you can soon see the city's two opposite states that always coexist: the antique and modernity, the tranquility and chaos, the tradition and innovation. The capital of Vietnam wears a wondrous balance between maintaining the original charm of rich history and culture and adapting to the most contemporary values from all around the world.
There are thousands of things to keep you busy during your trip in Hanoi, including moving visits to historical sites, delightful gastronomic experiences, indulgence in arts and cultural performance, and discovery of local hidden gems. The beauty of this city is strangely charming, yet timeless that you cannot miss when coming to Vietnam.
Best Time To Visit
Hanoi is one of the few places in Vietnam with 4 distinctive seasons: spring, summer, autumn and winter. The average temperature varies dramatically from about 12°C during the coldest months up to 36°C in peak summer.
Spring (February to April) and autumn (September to November) are perhaps the best time to travel to Hanoi because of the pleasant weather, when the temperature is not too low nor overwhelmingly high. Hanoi spring often marks its arrival with warm weather and clear bright sky. Travelers can also immerse in fantastic traditional activities which only occur during Tet holiday.
Meanwhile, heavy showers in September end the heat of summer, boasting another great time to visit the city and enjoy a walk down the central streets, stepping over the mats of yellow leaves.
However, there are always attractive things to enjoy in Hanoi no matter if it is a sweating summer time or chilly nights before festive season.
City Orientation
For most tourists, Hoan Kiem Lake and the surrounding Old Quarter are pretty much all of Hanoi. As a matter of fact, the city has spread to encompass some of the following provinces, making it one of the largest and most populated metropolis in the world.
Most hotels, shops, cafes and restaurants crowd the old town. It is both the oldest part of the city, but also the most vibrant since the tourists for a long time bring with them a flow of cultural fusion and influence. The locals enjoy the area as well: the young come for fun and the old come for nostalgia. Each street in this old quarter tells a distinctive story and lives with its very own ambience – only those who live long enough can appreciate the full beauty of the place.
Spreading to the south of the Old Quarter is the French quarter with a plenty of colonial/ Indochine architecture for you to admire: Hanoi Opera House, Museum of History, and the many buildings that line on Tran Hung Dao, Ly Thuong Kiet and Hai Ba Trung boulevards.
If you have more than a couple of days, make sure to include a quick visit to Tay Ho district where the expats are based. There you can help yourself with a totally different Hanoi seen in the Old Quarter: the jungle of international food intertwined with yoga studio and boutique tailors offering oversize clothes. Tay Ho is gradually becoming a new hype of Hanoi.
Major Attractions
Hoan Kiem Lake
Located in the heart of Hanoi, Hoan Kiem Lake is considered a symbolic image of the capital due to its long-lasting existence with related legends and stories that shaped a part of the country's history. This is a favorite spot not only for tourists but also local people. In the early mornings, you can find many local residents working out or elderly practicing t'ai chi by the lake; or in the weekend nights, when the surroundings areas turn into walking streets, this place becomes the biggest outdoor community in Hanoi for socializing and enjoying street art performances, traditional games, and cultural events.
Temple of Literature
The monument was built in 1070, marking the most prosperous era of Confucianism in Vietnam. Temple of Literature was the first university of Vietnam, which later memorized and honored noble scholars and sages. Beside its historical value, this place also presents the most genuine details of Vietnamese ancient architecture. Especially if you visit Temple of Literature during the Tet Holiday, you can find out an interesting custom – people come to ask for calligraphy paintings from old scholars as a wish of luck and peace in the new year.
Hoa Lo Prison
A visit to Hoa Lo Prison definitely leaves unforgettable memories. Built in the late 19th century, this historical relic, originally named Maison Centrale, had witnessed the gruesome crime of the Indochina War and Vietnam – US War. The remaining part is currently preserved as a museum to exhibit memorial objects and simulation of imprisoned life.
The Old Quarter
Defining Hanoi culture, Old Quarter is a must on your list when staying in this city. The area originally included 36 artisan communities such as silver, bamboo, fabric, paper, etc. Nowadays, there are some streets that still keep their traditional crafts while some streets transform into dine and drink hubs attracting both foreigners and locals. Walking through these streets, you can explore the city culture during the day and later soak in the vibrant atmosphere of city nightlife.
Where To Stay
As a metropolitan city, Hanoi is always busy with a great number of visitors traveling from or to the area. Therefore, there is no difficulty in finding a decent accommodation for your trip, no matter whether you are looking for luxury and comfort in high-standard properties or engage yourself in local lives with cozy homestays.
Most of the best accommodation choices are located in the city center, including Hoan Kiem District and West Lake neighbor due to its convenience to reach various attractions.
If you prefer a prime location in the Old Quarters and truly local experiences, a countless selection of Airbnb and homestay with diverse styles would be ideal for your city indulgence.
Read our Hanoi accommodation guide for latest hotel and accommodation updates.
How To Get There
Noi Bai International Airport is the second busiest transportation hub in Vietnam. It takes about 40 minutes to drive from the airport to the city centre. You can book a private car with ride-hailing services (Grab and Be are the two most popular in Vietnam) which will provide you estimating price upon your request, or a taxi from reliable groups such as Mai Linh Taxi, Taxi CP, which also accept credit card payment.
The cheaper choice is the airport shuttle bus, which is provided by Vietnam Airlines with several routes that travel back and forth between Noi Bai Airport and Hoan Kiem District. A single ticket costs you only VND40,000 (less than USD 2).
It is very easy to travel between Hanoi and other cities as well with a wide selection of transportation. For nearby areas, private car services, shuttle bus and train are always available, depending on your budget and personal preferences.
Food to try
Visiting Hanoi, you cannot miss the chance to try the best specialties of an Asian rich culinary hub. Renowned for the meticulosity in cooking techniques and the diversity of local ingredients, Hanoi boasts a splendid range of food that enriches your experience to a higher level of sophistication. You will find the bewitching city carpeted with food stalls and restaurants all days and nights, where each dish carries its own taste and story.
Phở (Beef noodles) is a classic must-try that you should visit particular places for an authentic flavor such as Pho Ly Quoc Su (Ly Quoc Su Street), Pho Gia Truyen (Bat Dan Street), Pho Vui (Dinh Liet Street) or Pho Thin (Lo Duc Street). There are also many traditional dishes appealing to not only tourists but even local elderly, served as their daily treats such as Cha Ca (Grilled Fish with tumeric and dill), Bun Cha (Grilled pork with noodles), Banh Cuon (stuffed pancake), Bun Rieu Oc (Crab paste and Snail vermicelli soup), etc. Furthermore, it is strongly recommended to get an iconic Banh Mi and Vietnamese coffee for a typical breakfast experience in Hanoi.
Most of the traditional dishes can be found within the Old Quarter and Hoan Kiem District that you can totally catch up with a friendly local youngster on the street and ask for further guidance. Beside the long-established food stalls along the streets and small alleys, contemporary fusion cuisine catered by modern eateries also create an impressive dining experience. Despite the culinary diversity, there is one mutual thing that every piece of cuisine in Hanoi shares: the complexity in combining ingredients that reach a perfect balance between layers of taste.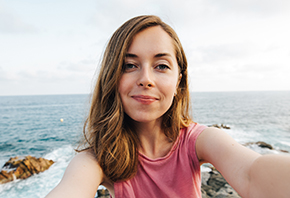 Loan Tran
Travel Expert
Traveling and having personally touched experiences of luxurious services; exploring new, attractive and unique products at each destination is my great passion during the last two decades of working in traveling industry. For me, traveling is all about memories and experiences.