A once bustling trading port, Hoi An is nowadays a rustic and charming cultural magnet to any visitors. The city seems to be forgotten by time, and retains much of its traditional heritage since the golden days: this place is clearly an intersection of Eastern-Western culture, the crystallization of Vietnamese, Chinese, Japanese and European countries manifested in cuisine, architecture, and local traditions.
Always ranking first in the list of most attractive destinations of Vietnam, Hoi An captures the hearts of travelers through a nostalgic, peaceful beauty with red tile roofs, iconic yellow walls, dreamy and romantic rivers, and stunning calm beaches.
Those who have visited the city find it hard to leave and almost impossible to forget.
Weather and best time to visit
With the humid tropical climate of the southern Hai Van region, Hoi An's climate is divided into two distinct seasons: dry and rainy.
The rainy season lasts from September to the end of January. Unlike the North of Vietnam (such as Hanoi, Halong Bay and Sapa) which sees cool winter breeze, the same period in Hoi An experiences average temperature in the 20s.
The dry season lasts from February to August with little rainfall and high temperatures. But thanks to its proximity to the ocean, the weather in Hoi An is not as scorching hot as elsewhere in Vietnam.
In recent years, due to climate change, Hoi An Old Quarter often experiences heavy flooding in the rainy season, so visitors are advised to visit in the dry season instead.
In short, the best time for you to explore Hoi An is from February to July – the spring and early summer climate with pleasant cool weather and endless blue skies.
What to do in Hoi An
Visit well-known attractions
As one of the top places to visit in Vietnam, Hoi An still retains almost 1,000 architectures from streets, houses, assemblies, to communal houses, temples, shrines and bridges. So the first must-do thing in Hoi An is to explore the city with renowned places like Japanese Covered Bridge, Tan Ky Old House. Phung Hung Old House, Cantonese Assembly Hall. With a tourist map, you can easily explore the city on foot.
If you have more time to spend, make sure to include trips to the nearby highlights such as My Son Sanctuary, Tra Que Vegetable Village or Kim Bong Carpentry Village, Cam Thanh Coconut Village or Cham Island. Book a tour from one of the agencies in town so you can make the best of your time there. Relax on the beaches
In addition to the ancient and peaceful beauty of the old town with its red-tile roofed houses, iconic brilliantly yellow statues, or colorful lanterns, Hoi An also captures visitors by stunning An Bang Beach. The natural picture drawn by stretching white sand strips, emerald blue sea surface and rustic boats, along with the cool breeze from the sea, will dispel all fatigue and anxiety in your daily life's hustle and bustle.
Taking a bicycle tour
Hoi An is considered one of the most beautiful cycling paths in the world besides Florence (Italy), Paris (France), Amsterdam (Netherlands), so it will be a mistake if you do not explore the tranquil and poetic beauty of Hoi An in an eco-friendly mode.
In addition, to protect the fresh and clean environment of Hoi An, the local government has encouraged visitors to use bicycles to travel while visiting the town. The price for renting a bike is very affordable, only from 20,000 – 50,000 VND (1-2 USD), or the hotels also offer free bike-rental service. Shop at the central market
During your stay in Hoi An, do not miss Hoi An Market – the largest market in Hoi An, with a full range of consumer goods, essential foods for daily life. In addition, the market is also a gathering place for a variety of local specialties such as souvenirs, lanterns, "non la", giving you a huge range of choices as you pick your souvenirs for friends and family.
Besides the handicrafts that are meticulously and beautifully crafted through the skillful hands of artisans, do not miss the street food at Hoi An market – which was chosen as one of 6 culinary paradise by Lonely Planet magazine – with a variety of specialties in Hoi An in particular, Quang Nam Province in general. A few must tries are cao lau, my quang and com ga Hoi An.
Order your bespoken clothes
One of the many must-do things in Hoi An is to get yourself an outfit tailored directly by professional and skillful tailors. Well-known for its soft and high-grade silk, Hoi An quickly captures the visitors' hearts by made-to-measure service for visitors who want to have a personalized outfit or as an impressive gift for loved ones.
There are many tailor shops located on the old streets with 5-7 professional tailors in each shop, giving you a variety of choices for ideal clothes.
Places to visit in Hoi An
Japanese Covered Bridge
As a jewel in the heart of Hoi An, the 400 year old Japanese Bridge is like a piece connecting the past, present and the future. Lying across a small branch of the poetic Thu Bon River and surrounded by the old quarter with the history of a thousand years, it acts as a witness to the once-sparkling history but still shining forever in the old town. This will be the perfect stopover for your trip not only thanks to its ancient majestic beauty, but also its unique oriental architecture. Spend some time to admire the meticulously engraved and painted wooden pillars and feel a part of glorious Hoi An's past.
Tan Ky Old House
Built nearly 200 years ago, Tan Ky Old House – which was granted the national cultural and historical relic site in 1990 – carries the typical architectural style of Hoi An old house. Its interiors are divided into many rooms with separate functions. The house's front is a place to open a shop, while the back is connected to the river wharf to serve as a place to import and export goods.
The house impresses visitors with its bold design and elegant look, built with traditional materials under the creation of skilled local carpenters. Phung Hung Old House
With its origin dating back over 100 years ago, Phung Hung Old House used to be the home of the richest businessman in ancient Hoi An with its modern and liberal beauty. The name of the house expresses the meaning of wishing prosperity in business. The house's structure is made of high-quality wood and influenced by oriental architecture.
Cantonese Assembly Hall
Built at the end of 1885, Cantonese Assembly Hall is a very famous and unique building of Hoi An in the late 19th century.
Impressive architecture made from wood, stone and cement has made up an elaborate and sophisticated work. Besides, the Assembly Hall also reflects the beauty of Chinese architecture through delicate details. The Assembly Hall currently preserves artifacts made of beautiful ceramics.
Trieu Chau Assembly Hall
Highly praised among the must-visit list in Hoi An, The Trieu Chau Assembly Hall attracts visitors with its fine lines in detail and unique delicate carvings. This is also a familiar point for those who are interested in learning about Vietnamese history as well as the development process of Hoi An.
Beyond the Old Quarter
Cua Dai Beach
Stretching about 5 kilometers from the center of Hoi An, Cua Dai Beach was honored as one of the 25 most beautiful beaches in Asia with its pretty sand dunes and turquoise seawater. Walking on the beach and watching the sunrise lighting up the sky will give you a feeling of incredible relaxation and peace. Unfortunate due to land erosion, it is no longer the best option for your swimming hours. You can still admire the natural beauty, especially in late afternoon, when the whole sky is dyed orange-red, and the water surface is shimmering by the sunset. A better alternative if you really want to soak in the ocean water is An Bang beach nearby.
An Bang Beach
An Bang Beach is an indispensable attraction when you visit the ancient Hoi An. The beach impresses visitors with its white sand strip, tranquil and blue sea surface, cool-shading coconut groves and especially its tranquility and wilderness. The beach's contemplation and tranquility together with the fisherman's simple basket boats will surely help you shake off all the fatigue, sorrow and worries of daily life.
Thanh Ha Pottery Village
Located on the side of the peaceful Thu Bon River, Thanh Ha Pottery Village has more than 500 years of establishment and development, and is a place for talented and enthusiastic artisans to blow souls into the soil.
The village not only gives visitors a peaceful, rustic village space, but also offers you various choices of meaningful souvenirs for loved ones, or experience of making your own unique work. Besides, you can also witness the process of creating beautiful ceramic products through the hands of skillful and talented artisans.
While visiting The Ancient Pottery Village of Thanh Ha, do not forget to visit Thanh Ha Terracotta Park – Vietnam's largest ceramic park which is considered a unique pottery museum with many areas of markets, exhibitions, and museums showcasing exclusive ceramic products.
Tra Que Vegetable Village
If you are a lover of the peaceful and fresh beauty of nature and rural countryside, Tra Que Vegetable Village is definitely the ideal place for you during Hoi An trip. The vegetable village not only gives you a vibrant green picture of more than 70 types of vegetables, but also helps you to have more memorable experiences when learning more about local people's lives, knowing know-how to take care of vegetables or trying to harvest vegetables. In addition to walking and breathing the fresh air here, visitors can cycle or ride a buffalo between the vegetable-scented streets.
My Son Sanctuary
More than 40 kilometers from the center of Hoi An, My Son Sanctuary is recognized by UNESCO as a world cultural heritage with an extremely unique architecture located in a valley with a diameter of about 2 kilometers with the ancient Champa culture. This is a complex of more than 70 temples with many typical architectural and sculptural styles for each period of Champa Kingdom. Not only architecture, My Son Sanctuary also has bold Cham culture with gentle and flexible Cham dance, and various special artistic activities like fire dance, water on head dance, folk performing arts. Admission tickets for this relic are 150,000 VND for foreign visitors, and 100,000 VND for Vietnamese visitors.
What to eat in Hoi An
Besides the ancient streets and fanciful shimmering lights of lanterns, Hoi An also captivates visitors' hearts with a unique and diverse culinary paradise.
"Cao lau" – A pork noodle dish
Those who have been to Hoi An must definitely enjoy a specialty of Quang Nam called "Cao lau" – which is more special than other dishes such as Quang noodles, "pho", and vermicelli thanks to the meticulous and elaborate noodle processing. The dish is a combination of rich broth, chewy noodles, the side dishes as minced meat, raw vegetables and the sour-spicy taste of lemon and chili. Despite originating from China, this dish has long been a culinary icon that visitors should not ignore in Hoi An.
Some of the best "Cao lau" addresses in the old town:
Cao lau Lien Restaurant: No.21, Thai Phien Street, Minh An Ward, Hoi An
Cao lau Ba Be Restaurant: No.19, Tran Phu Street, Cam Chau Ward, Hoi An
Cao lau Thanh Restaurant: No. 26, Thai Phien Street, Minh An Ward, Hoi An
"Banh my" – Bread
Bread is a famous and popular street food in Vietnam, however, each region has different ways of processing, creating a great variety for this dish. When it comes to Hoi An cuisine, domestic and international tourists cannot ignore the two famous bread brands: Phuong bread and Madame Khanh bread. Made from familiar ingredients but with its own recipe, Hoi An bread is described by Anthony Bourdain as "a symphony in a sandwich".
Address:
Phuong bread: No.2B, Phan Chu Trinh Street, Cam Chau Ward, Hoi An
Madame Khanh bread: No.115, Tran Cao Van Street, Minh An Ward, Hoi An
Chicken rice
It will be a mistake if you do not enjoy the chicken rice prepared by the hands of Hoi An's child during your Hoi An trip. Made with good and sticky rice, chicken mixed with onions, papaya, and herbs, served with a salad with 1 cup of chicken's heart soup, a unique and delicious dish is born with the name chicken rice – one of the must-try dishes in Hoi An.
Some of the best places to enjoy chicken rice in Hoi An:
Ba Buoi Restaurant: No.22, Phan Chu Trinh Street, Minh An Ward, Hoi An
Ba Ty Restaurant: No.25-27, Phan Chu Trinh Street, Minh An Ward, Hoi An
Ba Nga Restaurant: No.8, Phan Chu Trinh Street, Minh An Ward, Hoi An
Hoi An sweet soup
Hoi An is like a sweet soup paradise with a variety of dishes such as corn sweet soup, lotus sweet soup, black bean sweet soup, black sesame sweet soup, rice ball sweet soup, etc. A cup of mixed sweet soup is a great choice for those who want to enjoy all kinds of sweet soup at the same time. Hoi An sweet soup is available all year round but it would be great to enjoy on a hot summer day in Hoi An.
Some of best places to enjoy a cup of sweet soup in Hoi An:
Ba Muoi's sweet soup: No.4, Hoang Dieu Street, Cam Nam Ward, Hoi An
Co Sau's sweet soup: No.369, Cua Dai Street, Cam Chau Ward, Hoi An
Co Suong's sweet soup: No. 57, Tran Cao Van Street, Cam Pho Ward, Hoi An
What to buy as gifts
Green bean cake
The green bean cake is a specialty of Hai Duong Province, however, Hoi An's green bean cake owns a distinctive sweet-salty taste created by crispy fried pork fat, and soft green bean cake crust. The special taste and beautiful packaging make green bean cake an ideal gift for friends and relatives after your trip in Hoi An.
Toy figurine
Toy figurine – a simple toy but carrying a part of Hoi An people's memories – is a ceramic product of the well-known pottery village Thanh Ha. Toy figurines have many different shapes such as 12 zodiac signs, elephants, turtles, peacocks, birds, etc. This will definitely be a special and novel gift for loved ones after visiting this ancient town.
Silk
Hoi An's specialties include not only cuisine, but also silk – one of the most valuable garment materials. Exported to Asian-European countries 300 years ago, silk is made from natural silk material while its products contain both the cultural and historical beauty of Quang Nam. Silk and its products – which are made up of skillful hands of talented and experienced artisans – surely make a great gift in your Hoi An trip. Lantern
Referring to Hoi An, it is impossible not to mention colorful lanterns present in every corner and street of the old town. Let's impress your loved one with a gift as lanterns – which are both reminiscent of Hoi An and can be used to decorate the house. Sold throughout the old town space, lanterns have been improved so that buyers can fold them up for easy carrying.
How to get around in Hoi An
Motorbike
It is a popular vehicle in Vietnam that helps you to be proactive in the schedule and time, and save travel money. You can easily rent a motorbike in Hoi An for 120,000 – 150,000 VND/day.
Bicycles 
This is the recommended vehicle to use in Hoi An to protect the environment as well as help you enjoy ancient beauty of the town in the most detail. Bicycle rental service is quite popular in Hoi An for 40,000 VND/day or you can use free bicycles from the hotel where you are staying. Cyclo: While cyclo is a rare vehicle in many cities, it is one of the most popular means of transport in Hoi An. You can pick up a cyclo at Phan Chu Trinh Street or Tran Phu Street for about 150,000 VND/hour/cyclo.
Taxi
If you intend to explore tourist attractions far from the center of Hoi An, you can travel by taxi for more convenience in traveling. Some familiar taxi companies in Hoi An include Mai Linh Taxi (phone number: 0235.3.92.92.92), Hoi An Taxi (phone number: 0235.3.91.99.19), and Faifo taxi (phone number: 0235.3.91.91.91).
Boat
To have a perfect Hoi An travel, you should not miss the chance to take a boat ride on Hoai River, Thu Bon River – a perfect idea to admire the beauty and peacefulness of Hoi An. You can easily catch the boat at the river wharf in the city center.
Where to stay in Hoi An
Hotels in Hoi An
There are 2 main areas preferred by visitors when choosing a place to stay in Hoi An including hotels in the Old Quarter and hotels by the sea. Some of the best hotels for your reference include La Residencia Hotel, Little Riverside Hoi An Hotel, Maison Vy Hotel, Hoi An Rose Garden Hotel, etc.
Homestays in Hoi An
Hoi An is the perfect venue for you to find an attractive hotel or homestay – where you can get an experience full of local features. The homestays own a variety of designs and concepts as well as having a nostalgic and peaceful atmosphere of Hoi An. Some homestays loved by visitors are Loongboong Homestay, An Bang Garden Homestay, Le Bleu Homestay, An Bang Beach Hideaway, etc.
Resort in Hoi An
Hoi An is like a resort paradise for those who love private space with sea or river view as well as a comfortable place to relax after hard working days. You can consider some best resorts in Hoi An such as Victoria Hoi An Beach Resort & Spa, The Palm Garden Beach Hoi An, Sunrise Premium Resort Hoi An, Vinpearl Hoi An Resort & Villas, Beach Resort Hoi An, etc.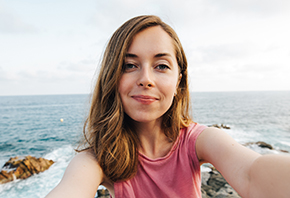 Loan Tran
Travel Expert
Traveling and having personally touched experiences of luxurious services; exploring new, attractive and unique products at each destination is my great passion during the last two decades of working in traveling industry. For me, traveling is all about memories and experiences.