Despite the fast-paced urbanization and cultural assimilation that are raging on in other parts of this Southeast Asian nation, best described as old Vietnam writ large, Hue, as a former capital of Vietnam, takes pride in its long history, atmospheric temples, sublime royal palaces and unique cultural traits that can hardly be found elsewhere in Vietnam. Besides exotic elements of the Imperial City, a walled enclosure within the citadel, Hue is extremely well-known for its cultural heritage elements recognized by UNESCO, one of which is Nhã Nhạc (Vietnamese court music).
It is imperative that one be able to tell Hue and Thua Thien- Hue apart. When someone says the word "Hue" in a conversation, it is highly likely they are referring to Hue city itself. Hue city is situated in Vietnam's central province of Thua Thien- Hue, which is bordered by the more well-known city of Đà Nẵng to the South and the war-torn province of Quang Tri to the North. This article will place its focus on Hue city while not forgetting to suggest some other worth-visiting places in other parts of Thua Thien- Hue province.
Best time to visit
Featuring a tropical monsoon climate, Thua Thien- Hue enjoys wet and dry periods over the year, with the dry season spanning six months, from March to early August, and the monsoon season lasting from late August to January. With 120 kilometers of coastline, the whole province of Thua Thien – Hue is especially vulnerable to devastating hurricanes from the East Sea. Thus, one has to be on their guard when they decide to visit Hue from August to January.
The weather in Hue remains hot from early May to end of September, with temperatures reaching up to 38 to 40 degrees Celsius in May and June. From October to March, affected by the Siberian anticyclone, average temperatures in Hue hover around 20 to 22 degrees Celsius, with lows of 9 degrees Celsius. Thus, it is from January to March that is the best time to visit Hue as the weather may be cool enough while there is little or no rain between these two months.
How to get there
Air
Hue's Phú Bài Airport connects this city with other major cities in Vietnam through direct domestic flights. Located in Central Vietnam, it only takes at most 1.5 hours to fly to Hue from any part of Vietnam. There are daily direct flights to Hue from the capital city of Hanoi and from Vietnam's most populous city of Ho Chi Minh. A round trip may only cost VND 2.500.000 (approximately USD 120).
Railway
Most travelers would choose this mode of transport to travel to Hue from its neighboring city of Danang. The train ride may last from 2 hours to 4 hours depending on the type of train you choose, and the ticket is pretty much reasonably priced, at VND 80,000 (4 dollars). The route will offer you a stunning view of Vietnam's coastline as well as Lang Co Bay – one of the most beautiful bays in the world.
Aerial view of train and railway on Hai Van pass, Bach Ma mountain, Hue
Car/motorbike
Hue is highly accessible by car and motorbike. However, please be informed that roads in Hue's center are relatively small for large cars as most roads have only two lanes.
Where to stay
The fact that Hue is somewhat less developed than its neighboring city of Đà Nẵng and significantly less touristy than Hội An does not mean that there are no high-quality hotels in the former capital of Vietnam. In fact, there are quite a few high-quality hotels revolving around the Imperial City. To name a few luxurious boutique hotels, Hue has Indochine Palace Hue, whose architecture and design are strongly praised by travelers and architects who have stayed here, VinPearl, whose name is already very familiar with Vietnamese people, and Azerai La Residence, a colonial-style villa sitting on the bank of Hương river.
Meanwhile, there are some other 3-star hotels located around the city centre which only cost as much as VND 1,000,000 (~USD 50) per night as well as some small guest houses that only charge you around VND 200,000 (~USD 10) to VND 500,000 (~USD 25). The rise of AirBnB has also diversified accommodations in Hue as many serviced apartments in Hue can now be found on AirBnB.
Places to visit
The Complex of Hue Monuments
Constructed on the banks of Hương river, The Complex of Hue Monuments is an imperial palace complex at the heart of Hue city, Thua Thien– Hue province. Due to its cultural, architectural and historical significance, The Complex of Hue Monuments was recognized as a UNESCO world heritage site in 1993. Many monuments and ruins, the most recognizable of which is Ngo Mon gate, are featured in the massive complex which was once used by the royal family and their eunuch servants.
Here, time comes to a halt as you meander along the palaces and revel in the harmonious medley of culture and history. A visit to this site may bring you back to the history of old Vietnam as well as offer you a glimpse into Vietnamese history. Don't forget to bring a big bottle of water and wear a high-quality pair of sneakers!
Khai Dinh Mausoleum
Hue remained the capital of Vietnam by the Nguyễn dynasty during their reign over the country. As the kings passed away, they also wanted to be buried in Hue as they believed this region had good feng shui. Among all mausoleums in Hue, Khải Định mausoleum stands out as the most gorgeous, most stunning and most architecturally valuable one. The mausoleum of Emperor Khải Định, who was deemed an aesthete by many, embodies a perfect confluence of Eastern and Western architecture.
Minh Mang Mausoleum
Another mausoleum worth visiting is Minh Mạng mausoleum. While Khải Định mausoleum features an outstanding blend of traditional Vietnamese and French architecture with beautifully carved walls and vibrant colours, Minh Mạng mausoleum has traditional Eastern architecture inspired by Confucianism. This mausoleum is located on Cam Khe mountain, at the place where Ta Trach and Huu Trac rivers merge into one water body named Hương River.
Thien Mu Pagoda
Irrespective of one's religious beliefs, Thiên Mụ Buddhist Pagoda is definitely worth adding to his itinerary. This temple, endowed with priceless architectural and religious values, has inspired the works of art of an immense number of Vietnamese artists, poets and authors. The stupa of this temple, Phước Duyên, is an iconic symbol of Hue city. This octagonal tower, which embodies a traditional Mahayana stupa, represents Taoist cosmology, which has a strong influence on today's Mahayana Buddhist cosmology.
Hue High School for the Gifted (Quoc Hoc Hue)
The idea of visiting a school on vacation may not have sprung to one's mind. However, one should take Hue High School for the Gifted into consideration when they happen to be in Hue. This atmospheric school may fill you with nostalgia for your schooldays. It is the largest high school campus in Vietnam with many large shady trees, benches, and colonial architecture.
Food to try
Vietnamese cuisine encompasses diverse elements of the culinary culture of Vietnam, which is divided into three categories: Northern Vietnamese cuisine, Central Vietnamese cuisine and Southern Vietnamese cuisine. Food whose roots are traced back to Hue plays a crucial role in the formation of Central Vietnamese cuisine.
In general, Hue cooking places its emphasis on well-prepared dishes with strong aromatic components and a spicy edge, reflecting the preferences of royal families in the past. Bun bo Hue (Hue-style beef noodles), which is the most well-known Hue food, is a perfect example of this argument. There is no room for simplicity in this kind of food whatsoever as it demonstrates intricacy, attention to detail as well as the use of medically beneficial ingredients.
Other than bún bò Hue, bánh lọc (tapioca dumplings) is also another Hue's well-known food. They are small, chewy tapioca dumplings filled with prawn and pork belly, and are used with diluted fish sauce. One tapioca dumpling only cost VND 2,000 (~ USD 0.1) on average. Also, bánh xèo, a savoury pancake containing a variety of stuffing (pork, prawn and bean sprout) in batter mixed with turmeric powder, is another must-try food. Unlike Mekong Delta's version of bánh xèo, Hue's version is smaller in size, slightly thicker, crispier and is used with sophisticated peanut sauce, creating such an aromatic smell.
Last but not least, it will be a big mistake if one skips chè cung đình (royal dessert) when they travel to Hue. It is believed that the members of the royal family relished having chè as a dessert. This kind of food in Hue, in contrast to the sweet taste of the Mekong Delta's version, has a light taste and does not tend to include coconut milk. The most favoured kinds of chè are chè nhãn lồng hạt sen (chè with lotus seed wrapped in longan flesh), chè bột lọc heo quay (chè with roasted pork wrapped in tapioca). Fancy as they may sound, one dish of chè may only cost as much as VND 15,000 (~ USD 0.7).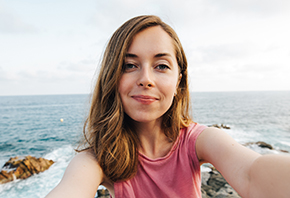 Loan Tran
Travel Expert
Traveling and having personally touched experiences of luxurious services; exploring new, attractive and unique products at each destination is my great passion during the last two decades of working in traveling industry. For me, traveling is all about memories and experiences.