Guarding the gate to the vast beauty of Vietnam Northwest regions, Son La holds in itself more than just tourism values. It is the home of honorable history, of varied culture, and gentle nature.
Moc Chau town in Son La
With 12 ethnic groups (Thai, Mong, Muong, Tay, etc) that long inhabited the great land, the province can provide a series of Northwest identities. From the colorful dance of embroidered dresses, the warming sound of traditional songs, the ecstatic smell of mountain wine, to various unique customs, all perform fantastically under the cover of majestic landscape.
Best time to visit
The climate in Son La is mainly comfortable plus a little chill at the end of the year. Winter is cold and dry. Summer is hot and wet. The temperature may range under 14 degrees at the lowest and reach over 30 degrees at peak.
In summer, around June to August, the rain rate increases dramatically. With a high chance of showers, and if not, is the scorching heat, this time should be avoided in your travel plan.
The best time to visit Son La is from late Autumn to the beginning of Spring. September holds joyful Mong ethnic group festival; October floods by golden wild sunflowers; November blooms with white rape flowers; December experiences Thai ethnic hot-springs bathe customs; leaving January and February to peach and plum season. During this time, the colorful life of Son La reaches its zenith with cultural-explore and nature-awe.
How to get there
Sitting on the Northwest wing, Son La is over 300km far from Hanoi. With a fair distance, travel, by all means, is easy.
By bus
The most popular option is to pick up public buses. They will save much of your stamina if you plan to walk deep inside the province. The buses usually depart from My Dinh and Giap Bat bus station with various timetables – mainly leave before the night and reach Son La at dawn. The companies provided service includes Hai Van, Ngoc Thuan, Bac Son, etc. One transfer can cost from 160.000 to 250.000 VND per person.
By private car or motorbike
For a large travel group or explore-head, travel by private vehicles can be more convenient. You can set up your itinerary depending on the destinations. There are three routes to follow if you leave from Hanoi: 6 NR, 37 NR, and 05 Highway – 37 NR (car only). It takes about 7 hours if you are destined for a far-flung area. For Moc Chau, it only takes under 5 hours to finish 200km (motorbike is highly recommended).
Moc Chau Plateau – A Must visit
As the third-largest province of Vietnam, the attraction number in Son La is large, while the distance between is huge. Stretching from districts like Moc Chau, Bac Yen, Muong La, Phu Yen, Quynh Nhai, Van Ho, to Son La city, each place preserves its own unmistaken and unspoken charm
The little house in white rapeseed flower field in Moc ChauMoc Chau is the most stunning plateau in the Northern mountain area, home to landscape wonders and ethnic minority's home.
Poetic villages
Ang village hangs in the prime location of Moc Chau plateau, making it attractive among attractions. Not only blessed with clean air, a clear lake, and romantic pine forests, the place also saves the cultural treasures of Thai persons.
Thong Cuong (or Thung Cuong) is one of the Mong ethnic villages situated between Moc Chau and Van Ho district. Winding along the village roads are the boundless valleys of flowers, white ones to be exact.
Meanwhile, Ba Phach is sunken into the deep mist altered by the surrounding mountains. The terrain divides the village into two, upper one belongs to Mong groups, the lower lives Thai people.
Ngu Dong
Secluded from the noisy crowd, Ngu Dong (five caves) in On village is a virgin to development. The untouched beauty has left the place with a rare formation of limestone and glitter stalactites. To reach these caves, local guides are integral as you must traverse uncountable sloppy mountain paths.
Son Moc Huong Cave
Son Moc Huong Cave, also known as Bat Cave, with an area of approximately 7000 m2, hides to the South East of Moc Chau town. This Bat Cave name appears thanks to its long-time residents. Visitors have to climb up 240 steps of a curving ladder to reach the bizarre nature works yet the sweet home of nightly creatures.
Pha Luong peak
It takes great skills and patience to conquer Pha Luong. The peak is not that high, but the red soil dirt-road leading to it supposedly plays the hard part. Thankfully, those able to hammer down the path shall be rewarded with a breathtaking mixture of blue sky, dense foliage, and bizarre rocks.
Na Ka valley
Some have discussed the beauty of Na Ka valley as heaven on earth. The place especially glows in the springtime when every corner is washed by the white plum flowers. From a higher up bird-view, you can witness the rocks, the pass, and the hills changing color to the purest of all.
Dai Yem fall Dai Yem (pinafore) falls near Vat village in Muong Sang commune of Moc Chau. It is the ending works of Bo Co Lam and Bo Ta Chau stream with two branches of over 100m height. The fall is named following the old legend of a girl who saved her lover from the crashing flow of the streams. Until now, the water is still driving strong to wash away pollution and keep the site in its pristine state.
Tea plantation
One cannot go without mentioning the famous tea plantation of Moc Chau. Midsummer, the land is lightened up by the waving green of fresh tea leaves, all valleys, and hills. Cared by farmers' utmost concentration, these plantations have lured many visitors in, not only to fix on its amazing view but also to reap the harvest products.
Son La City – Things to see
Mong village
7km from Son La city in Hua La commune is Mong village. It is the favorite communal destination for pre-passers. Nature-admire in the morning, and fire-pit-chatting with locals at night, there is also the hot-spring culture thriving from Thai customs, each providing unforgettable dreams.
Son La Museum
Situated inside the museum – prison complex, Son La Museum displays thousands of ethnic daily life artifacts, from ancient days till modern now. The special lot calls for a collection of ancient books and rolls, written in ethnic traditional language.
Ta Xua Mountain
Ta Xua Mountain, a small mountain range borders Bac Yen district of Son La and Yen Bai province. This is where the clouds sleep and awaken every morning. Coming to Ta Xua, you will find many who trek, camp on the dinosaur spine for cloud hunting. After reaching the peak, an ocean of white waves crashing mountainsides is waiting for its challenge winners.
Da river tourist site
An alternative route to explore Son La is to follow the flow of Da River. The river crosses 280 km of Son La with more than 32 tributaries. From Bo Market to Van Yen Port to admire the enormous space where sky and water collide, to the giant river hydroelectricity plant to immerse in the vast space amid mountains. There are many archaeological sites along the river banks, telling stories of ancient culture.
Ngoc Chien commune
With an average altitude of 1800m above sea level, Ngoc Chien commune is cool all year round. Three groups of Thai, Mong, and La Ha have settled here for long, they also add up to the diverse culture of the place. Come to Ngoc Chien to savor the deliciousness of Tan sticky rice and the strength amendment of many hot springs.
Things to do in Son La Province
Feast on serene nature
Son La has all the natural scenery that you can think of. From high mountains to low valleys, from small villages to a large river, you would need a month-tour to fully discover the beauty of this land.
Take part in festivals
Besides natural sites and an ocean of flowers, travelers are welcomed to various local festivals. Buffalo fighting on the 5th of the lunar first month, boat racing in Son La hydroelectric power plant on the 10th of the same month, hair-washing of White Thai at the end of the year, or Mong Independence Day on September 1st are some examples.
Dig on Northwest specialties
One can not claim to visit Son La if he has not yet tried the very amount of food. Embrace 12 ethnic groups, each with their own identity and traits, Son La presents a cuisine that is undeniably unique as well as colorful.
Kitchen smoked beef
Beef chunk marinated with mountainous spices, placed in the kitchen to slowly dry, smoked by waft and waft of the cooking fire, that is how this Gac Bep delicacy was born. The outside is burning-black, but the inside still remains fresh meat-redness. Add a little chili, lemon, or salt to your liking and eaten strings by strings as snacks.
Pa Pinh Top
Strange as it may sound, this dish is Thai people grilled fish. The fish is freshly caught in the river, spiced with ginger, lemongrass, and Mac Khen, folded with bamboo to grill on hot charcoal. Its sweetness and bitterness rival to none. Pa Pinh Top is best when served with sticky rice.
Nam Pia
This dish is not for a hard-eater, but more a treat to those fancy new experiences, and a strange one too. In the Thai ethnic language, Nam means soup, and Pia stands for a distinguished substance. This soup is a blend of buffalo slice-small organs and a squishy fluid of its small intestine. The first spoon may come a little bit pungent, but once familiar, it gets much tastier.
Com Lam
Another sticky rice dish but this time stuffed in bamboo piles. It represents the mountain's simple flavor more than anything, the aroma of new rice, the plants, and the leaf cover.
Bang River stone snail
Stone snails are juicy and big, the best one can be found in Bang River of Moc Chau. Other than steam, stone snails are used in soup, mixed with sour bamboo shoots, or put in green mango salads.
Nam Lau taro
Passing the province on winter days, what is better than tasting the pork bones stew with taro. Warm and sweet, just as the taro grows in Nam Lau, Thuong Chau district.
Where to stay
Accommodation choices in Son La do vary, with hotels and resorts located near Moc Chau, friendly homestays surrounding major attractions. The quality of those out-of-town estates is just a little above average with standard facilities service. However, you still can count on the homestay system to experience the truest life of a nature traveler.
Hotels can name Muong Thanh Luxury, Hoa Ban Trang, Windsor Hotel in Son La city, Muong Thanh Holiday, Thao Nguyen Resort in Moc Chau.
Homestay options for families and friends include Moc Chau Arena Village, Fairy House, November, Mama House, Lavalle, Nha Ben Suoi, V House, Pho Nui Tinh Yeu Homestay, etc. And for those keen on communal tourism, there are Tien Quan, Minh Chau, Long Trang, and Minh Truong at the border of Son La city to experience a stilt house stay.
Gifts to bring home
Like the abundance of food, Son La also has many specialties to bring home. Ta Xua Snow Shan tea, Moc Chau green tea, to Son La rare-find fruits (Hau plum, Tao Meo, egg mango, strawberry), and Moc Chau dairy products.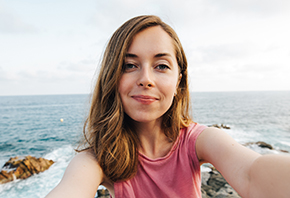 Loan Tran
Travel Expert
Traveling and having personally touched experiences of luxurious services; exploring new, attractive and unique products at each destination is my great passion during the last two decades of working in traveling industry. For me, traveling is all about memories and experiences.