Once known as the 'Pearl of Asia', Phnom Penh's was knocked off its pedestal by the impact of war and revolution. However, Over the last few years the city has risen from the ashes to take its place among the 'places to be seen' capitals of the region, with an intriguing cafe culture, bustling bars, a stunning location on the banks of the Mekong  and a world-class food scene.
Phnom Penh is a city of great contrasts, where you can visit some of the most elegant buildings in Asia but also discover the harsh reality of its modern day history. The traditional art and architecture of Phnom Penh is amazing and you can admire the ornate buildings of the Royal Palace and the ancient temple of Wat Phnom. You'll also discover art treasures in the Silver Pagoda and at the National Museum.
Phnom Penh has a dark side too. You'll learn about the brutal Khmer Rouge regime from the late 1970s by visiting the Tuol Sleng Genocide Museum (the former S-21 security prison) and take the journey to the poignant Killing Fields.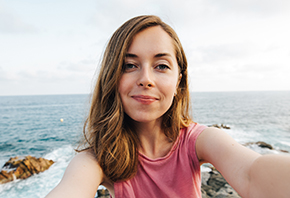 Loan Tran
Travel Expert
Traveling and having personally touched experiences of luxurious services; exploring new, attractive and unique products at each destination is my great passion during the last two decades of working in traveling industry. For me, traveling is all about memories and experiences.
constructed in the ornate Khmer style and glittering with gold gilding
The Royal Palace
The ornate roofs of the Royal Palace are the most striking of Phnom Penh's skyline, constructed in the ornate Khmer style and glittering with gold gilding. Set just back from the riverfront, the palace is the official residence of Cambodia's king. Part of the same complex is the magnificent Silver Pagoda – within you'll find priceless Buddhas, exquisite examples of Khmer artistry and a floor covered by 5000 silver tiles, from which the pagoda gets its name. Both are set amongst delightful French-landscaped gardens.
One of the places that you can visit
The Killing Fields
It was only in the 1970s that Cambodia was under the horrific rule of the Khmer Rouge, a regime that murdered over a million people. The Killing Fields of Choeung Ek is just one of the places that you can visit that will help you get to grips with this tragic past, and while upsetting it is also incredibly poignant. Surrounded by farmland and remarkable peaceful, Choeung Ek, just outside of Phnom Penh is the location of a mass grave for an estimated 20,000 people. Take a moment to reflect at the memorial stupa. Back in Phnom Penh itself, the Tuol Sleng Museum of Genocide went from high school to torture camp, prison and execution centre for those deemed opponents of the revolution – many of the prisoners here were taken to Choeung Ek to be executed.